E3 2011
Published on June 7th, 2011 | by Derek Strickland, Contributor
New Xbox Live Features Revolutionize Convenience
With Microsoft's impressive Kinect-heavy releases at E3 2011, they've also revealed quite a few additions and changes coming to Xbox LIVE. The service will be updated with a snazzy and evolved new look, as well as having convenient features such as voice search over Bing, and a hands-free way to enjoy gaming via Kinect.
Xbox LIVE-exclusive content with Microsoft partners–YouTube and Skype to name a few–will offer a seamless and effortless way to discover a whole new world of entertainment like social networking, gaming, and all of your personal content like movies, pictures and music.
While the Kinect sensor is at the core of Microsoft's E3 2011 Press Conference with additions like Kinect Fun Labs, which offers many new and entertaining features that bring a new way to enjoy the device, there is quite a bit of focus on a hands-free entertainment experience. Now gamers can enjoy all their content–music, television, movies, and pictures right at their fingertips all conveniently wrapped in voice recognition and motion detection on Kinect.
You say it, Xbox finds it.
Imagine being able to command your Xbox, talking to it like it were a sentient AI machine ready to serve you at your every whim. While Xbox 360's won't be equipped with personalities, it's easy to think of your Xbox 360 as a friend when you're communicating with it, especially since it delivers a robust array of entertainment.
With a few simple commands such as "Xbox, Seach" to find movies and games–no longer are players required to navigate the Game Marketplace with it's clunky and outdated labyrithine groupings. Now gamers can easily find whatever content they're searching for in seconds, and perform refined or general searches to pinpoint games and movies on the marketplace.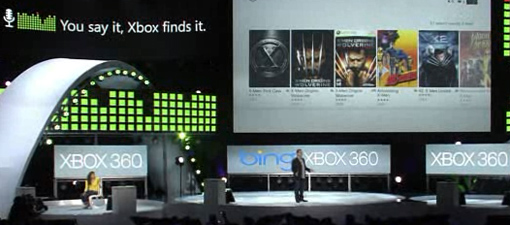 When Kinect was revealed it heralded a whole new age of hands-free gaming, an evolved entertainment experience that has founded first with Nintendo Wii and has been solidified with PS Move and Kinect for Xbox 360. All in all these features are impressive and offer a new way to play games, watch movies, and interact with friends on Xbox LIVE all with a new level of interactivity that brings players into the game like never before.
Check Xbox.com for more updates on Xbox LIVE content additions and features.