Batman: Arkham City
Published on May 31st, 2011 | by Derek Strickland, Contributor
Batman: Arkham City Villains & Foes
Batman is known by mostly everyone around the world, and the caped crusader is a pop-culture icon that has expanded to every entertainment medium there is: books, movies, tv shows, and of course the vast series of comic-books and graphic novels.
The upcoming sequel to the incredibly popular video game release Batman: Arkham Asylum has promised many things to gamers–one of them being an expanded cast of villains to thwart the dark knight's progress and psychologically taunt our hero.
The list of supposed antagonists in Arkham City found on an unofficial website:
The Joker
Harley Quinn
Catwoman
Two Face
Mr. Freeze
The Riddler
Talia al Ghul
The Penguin
Black Mask
Hugo Strange
Deadshot (Updated)
(Note: This list has not been confirmed as completely accurate and is subject to change.)
After donning the cover of PlayStation 3 Magazine (PSM3), Penguin's ugly mug confirmed his role as a villain in the upcoming Batman: Arkham City multi-platform sequel release. Below is a possible character depiction of the Penguin that hasn't been confirmed as legitimate.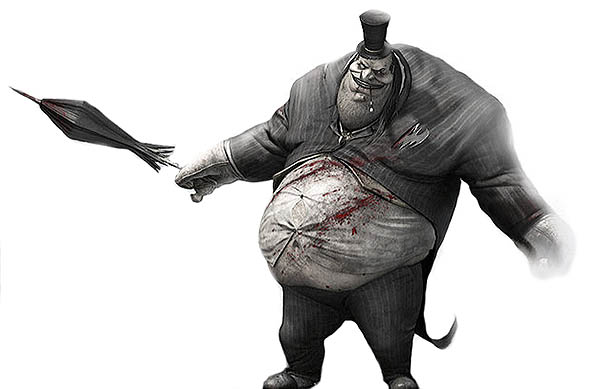 This possible iteration of the Penguin is quite dark and sinister, making Chester Cobblepot quite a formidable enemy within the game. Although the picture above hasn't been officially confirmed as in-game footage of the Penguin, it still seems to match the dark tones that the other artwork for Arkham City possesses. This picture doesn't match the official PSM3 magazine cover, however, and seems to be a transformation of sorts.
His considerable bulk and size mar DeVito's representation of the Penguin in the blockbuster film BATMAN RETURNS, making Copperpot into something more lethal and monstrous. Of course this hulking villain still has his signature tophat, cigarette holder, and deadly umbrella.
This snapshot may confirm that the classic femme fatale Poison Ivy–who's alluring features are as deadly as they are beautiful–might be seen in the game as well, yet her appearance hasn't been confirmed either.
**UPDATE**
Harvey Dent (aka Two-Face) is among the most recognized and infamous Batman villains out there, having been featured in two Batman movies and countless comic-books. Known for his terribly mutilated face and his obsession with flipping coins, Two-Face appeared early on in the caped crusader's adventures, pitting him as a notorious foe who's mettle is proven with his deadliness and twisted cunning.
After Arkham Asylum, fans have been crying out to see their favorite double-sided bad guy cast out divine judgement against those who would dare go against his better half. Those prayers have been answered. Two-Face will be a major enemy in Batman: Arkham City.
Mr. Freeze, the lunatic mastermind obsessed with cold has been confirmed as a foe in Arkham City. As a classic baddie, Dr. Victor Fries first appeared in the Batman comic-book series all the way back in 1959 and has been freezing things ever since. With his advanced technology and savage lunacy the high-tech scientist has wreaked havoc upon Arkham for quite some time, proving to be one of the most worthy adversaries of the caped crusader.
With an expansive cast of nefarious foes, Arkham City is shaping up to be quite an appealing Batman game that will resurrect these classic villains with next-gen graphics. This game will surely appease all huge Batman fans–whether you're obsessed with the multitudinous comic book series, the multiple animated tv shows, or the Batman movies, this game is sure to entertain.
Check the gallery below for more screenshots of the infamous villains who are confirmed to appear in Arkham City, also included is a video displaying the possible character depictions of Poison Ivy and the Penguin–yet at this point these pictures haven't been confirmed.
E. Nigma (aka The Riddler) has plagued Batman's psyche with a host of cleverly designed–and deadly–riddles, tricks, and downright mind-bending puzzles. The supervillain who's only power is his savage wit first made his appearance in 1948, solidifying himself as one of the main and best-known foes in the Batman universe. It's no surprise that The Riddler would be making an appearance in Arkham City–he was, after all, an important part of the sidequests in Arkham Asylum, and is a central baddie within the series.
The Riddler plays a much bigger role in Arkham City and his riddles and traps are deadlier than ever.
The infamous baddie Deadshot has been confirmed as a villain in the upcoming Batman sequel. Another villain?! Gamers can expect to see all the notorious foes in the release of the upcoming Batman: Arkham City–relive all the old days of comic book glory in one of the most anticipated retail titles in quite some time.
The worthy adversary known as Deadshot will be making a debut as a villain in Arkham City. Whether or not he'll be a central character remains to be seen, but fans of the caped crusader's legendary adventures will no-doubt recognize this gunslinging foe as the badass mercenary he is.
[nggallery id=295]